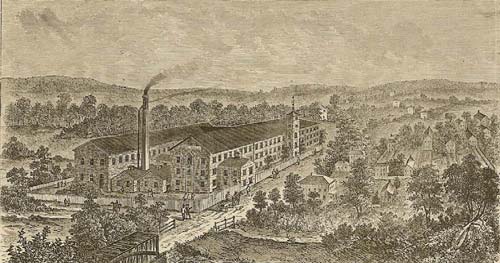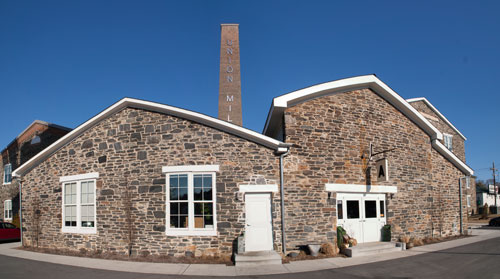 Horatio Gambrill, previously partners in cotton milling with John Carroll and William E. Hopper, built Druid Mill on his own in 1877. It was the largest cotton mill in the state. (It is interesting to note that Gambrill built his mills with stone, when other mill owners built with brick.)
Gambrill died in 1880 and his sons carried on the business. In 1890 they went bankrupt and sold the mill to the Woodberry Manufacturing Company. They sold it to the Mt Vernon Mills in 1892 and renamed Mt. Vernon Mill #4. The mill became part of the Mount Vernon Woodberry Cotton Duck Company trust in 1899.
In 1917, the mill was sold to Poole & Hunt. Renamed Pool's Plant #2, it was used for manufacturing washing machines and other appliances in an attempt to diversify the business. The former mill was sold in 1935 when Poole & Hunt dissolved. It was used by a variety of small businesses, including the Commercial Envelope Company from 1944–1947. In 1962, Druid Mill was sold to Kramer Brothers Hobbies, makers of "Life-Like Products," a line of plastic ice buckets, portable coolers, and toys (McGrain 607–608). One story is told that the company made items for toy trains; employees used to put styrofoam mountains built for train sets on top of their coffee mugs, keeping them hot; the discover lead to the invention of the styrofoam cooler (story told by Johns Hopkins, 2014).
Purchased in the late 2000s by Hamel Builders, it was renovated and renamed "Union Mill." Currently it contains office space for non-profits, shops, Artifact Coffee

, and low-cost housing for teachers and city employees.