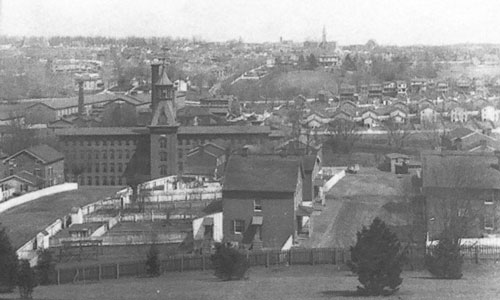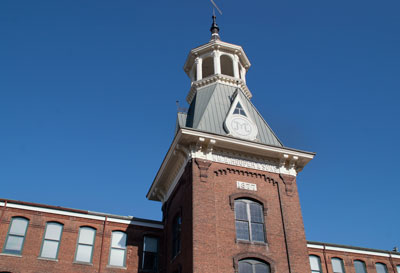 The iconic Meadow Mill was built by William E. Hooper in 1877 to manufacture cordage. At that time, the mills of Hampden/Woodberry produced 80% of the world's cotton duck, twine, yarn, lamp wick, sheeting, drill, twill, shirting, and calico print (Black 3). Its designer was Reuben Gladfelter, in-house architect for Hooper.
In 1899 Woodberry Manufacturing merged with the Mt. Vernon Company, which owned 15 mills in Maryland and the South. In 1948, the owners sealed the windows and air conditioned the building to weave synthetic fabrics (McGrain 603-604).
Meadow Mill was sold in 1960 to Londontown Manufacturing Company, who used it for manufacturing its London Fog raincoat. (At one point, six out of eight raincoats made in the U.S. were made by London Fog. (Hansell))
Londontown sold Meadow Mill in 2000 to Sam Himmelrich, who restored it. The former mill is currently occupied by a variety of small businesses and by the Meadow Mill Athletic Club

.