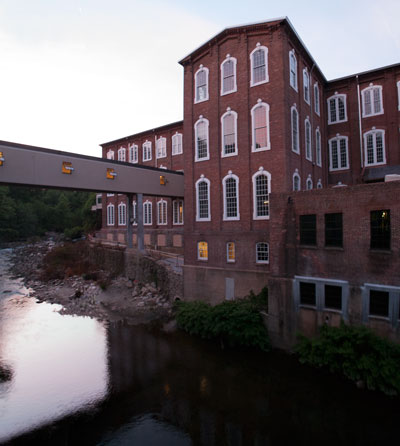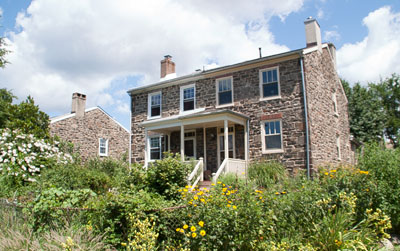 Laurel Mill may have existed on this site c. 1820 to grind flour using water power from the Jones Falls. (There is a stone base under Mill #1 that may have belonged to Laurel Mill). The mill was leased to textile makers William Mason, Horatio N. Gambrill and David N. Carroll in 1845.
Laurel Mill was sold in 1848 to the partnership of Thomas Wilson, William Kennedy, and Joseph P. Grant, who founded the Mt. Vernon Company and built Mill #1 on the Jones Falls to manufacture cotton duck in 1850. Mill #2 and #3 were built on Chestnut Avenue on the other side of Falls Road, in 1853 and 1873 respectively, to expand capacity.
Above the mills are stone houses that were rented cheaply to mill workers as part of their employment, now known as "Stone Hill." (Similar stone houses exist north of Woodberry Mill, and there are brick homes built for workers in an area called Brick Hill, between the Poole & Hunt Foundry and Druid Park.) Other areas of Hampden were developed by Mt. Vernon Company and the houses sold to mill workers. Stone Hill and similar mill housing owned by the mills were sold after the mill strike of 1927.
With the exception of World War II, from the 1920s to the 1950s output from Mills #1, #2 and #3 declined sharply because of competition from Mt. Vernon Mills' other cotton mills in the South, from Asia, and from synthetic materials. In the 1960s Mills #1, #2, and #3 were diversified into synthetic industrial and commercial fabrics. The mills closed in 1972 and the production was moved to Mt. Vernon Mills' plants in the South. (Mt. Vernon Mills website

)
In 1972, Mills #1, #2 and #3 were bought by Rockland Industries

, another local textile manufacturer, for storage (McGrain 597-599). In 1987, developers renovated Mills #2 and #3 to create The Mill Centre

, which leases space for offices and galleries. In 2013, Mill #1 was redeveloped by Tera Nova Ventures

into apartments, offices, and restaurants.