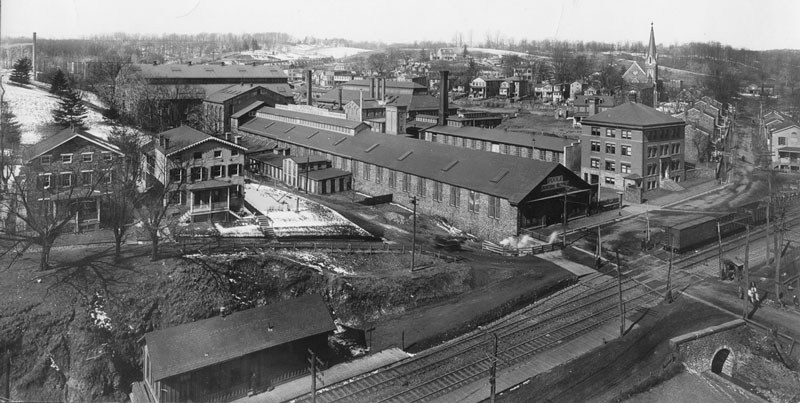 Robert Poole & German Hunt moved their machine shop from downtown Baltimore to this location in 1853. In the 1850s, Poole & Hunt made parts for steam engines and railroad cars and cast the 36 iron columns and brackets that support the U.S. Capitol dome; in the 1860s they cast cannon barrels and cannon balls to preserve the Union. During World War I they built costal artillery mounts and battleship turret rings. The foundry was highly capable and had an international reputation. Many of the workers at Poole & Hunt were married to women who worked in the cotton mills. In similar fashion, James E. Hooper, owner of Woodberry Mills and then Hooperwood Mills, took as his second wife Sarah Poole, a daughter of Robert Poole.
Poole & Hunt went bankrupt in the 1920s. During World War II the Franklin Balmar Co. built airplane wings and parts for the Manhattan Project here. Other companies, including a cabinet maker, occupied the space through the 1990s (McGrain 606).
A large fire in 1995 destroyed the Machine Shop (since rebuilt as Millrace Condos) and part of the Assembly Buildings (whose basement is now an elegant swimming pool). The remaining Poole & Hunt foundry buildings were restored in the 2000s by developers Struever Brothers, Eccles and Rouse and renamed Clipper Mill Park (it is on Clipper Mill Road but is not the original Clipper Mill). The buildings are currently used for offices, Woodberry Kitchen

, shops and an art gallery. The former Foundry Building is currently occupied by Gutierrez Studios

, a high-end metal fabricator.