Drive/Bike/Walking Tour
A tour through the historic cotton mills of the Middle Jones Falls valley, Baltimore. In the mid- to late-1800s this was the industrial heart of Maryland, and its factories produced 70-80% of the cotton duck (sail cloth and canvas) made in the United States.
Tour Info
Total distance: About 8.5 miles from Rockland Mill (1) to Timanus Mill Dam (13).
If you're biking, Falls Road is hilly. North of Robert E. Lee Park is relatively quiet and has narrow bike lanes; south is busy and commercial.
If you bike at 10 mph, this tour will take
about an hour, not including stops.
Amenities
None of the mills are
still in operation.
Mt. Washington Mill (3) has shops and restaurants; Poole & Hunt (5) has a restaurant and artists' studios; Union Mill (8) has a cafe; Mill Center (12) has artists' studios, galleries and businesses; and Mill #1 (12) will have two restaurants overlooking the Jones Falls in 2014. There are also restaurants and shops along Falls Road and The Avenue (West 36th St.) in Hampden.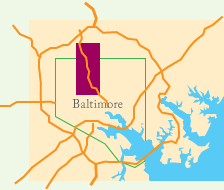 Inset map shows tour
relative to Baltimore