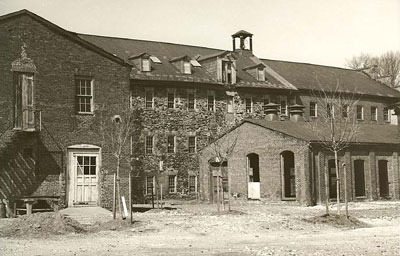 First constructed for the Washington Cotton Factory, the Mount Washington Mill is the earliest surviving cotton manufacturing facility in the State of Maryland, according to Dennis Zembala, founder and former director of the Baltimore Museum of Industry. The mill is the third oldest surviving cotton mill in the United States, preceded only by Slater Mill

and Wilkinson Mill

, both in Pawtucket, Rhode Island.
Conceived and built after Jefferson's embargo of foreign trade in 1807, Mount Washington Mill represents the first major attempt in Maryland to manufacture textile goods. Built in 1810 by the Washington Manufacturing Company, it originally had 288 spindles and six looms. Five months later, it had 1,000 spindles, seven looms and a dye house. In 1847 a brick addition was added to the Jones Falls side by owner Thomas H. Fulton. The facility included a dyeworks, and a separate structure was built for it around 1850. In 1853, Mt Washington Mill became part of a chain of seven mills in the Jones Falls Valley owned by William E. Hooper and Sons, the leading manufacturer of cotton sail cloth in the country.
In 1899, Mount Washington Mill and other Hooper mills combined with Horatio Gambrill's mills and Mt Vernon Mills in the Hampden/Woodberry area and other U.S. mills into the Mount Vernon Woodberry Cotton Duck Company. These later became known as Mount Vernon Mills. With a decline in sales of cotton duck after World War I and faced with competition from mills in the South, Mount Vernon Mills sold most of its factories in Baltimore and moved its production to mills in the South.
When Mount Washington Mill complex was sold in 1923 to the Maryland Bolt and Nut Company, one hundred and fifteen years of textile manufacturing ended at this site (Shoken). The mill was purchased from Maryland Bolt and Nut Company c. 1989 by Washingtonville Limited Partnership. Non-historical buildings were removed and the mill was converted into an office park with a Whole Foods grocery, a Starbucks, and specialty stores. Inside the office building are displayed photos of Maryland Bolt and Nut when it was in operation.