A handful of owners were successful at building and managing cotton mills in the Jones Falls valley. They included:
David Carroll, an Anne Arundel County native who apprenticed at early age in the Savage Textile Mill, was in business for himself by the age of 25 and co-builder at age 37 of the White Hall Mill (later Clipper Mill) with Horatio N. Gambrill, Thomas Lansdale, and associates. He also partnered with Gambrill on Stony Works, their first cotton spinning mill, and with Gambrill and William E. Hooper on Woodberry, Mount Washington, and Park mills. Carroll was partners with Gambrill until they sold their interests to William E. Hooper in 1868.
Carroll's house, Mt Vernon, currently serves as the headquarters for the Florence Crittenton Services at West 32nd. Street and Crittenton Place. One of Carroll's daughters married John T. Timanus (1822-1879), owner of Timanus Mill, which once stood adjacent to the Cedar Avenue Bridge. One of Carroll's sons, the Rev. David H. Carroll, was educated at Dickinson College and worked in the Jones Falls cotton mills all his life, ending up as president of the United States Cotton Duck Company — which included the Mt. Vernon-Woodberry Mills — in 1912 (Legacy Web).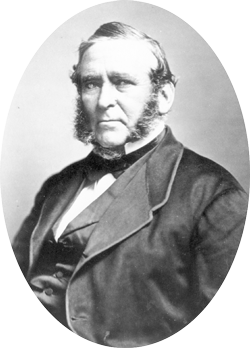 Horatio Nelson Gambrill (1810-1880)
Inventor and mill owner Horatio Nelson Gambrill was born in Anne Arundel County in 1810. At age 15, he was apprenticed in the Savage, Maryland, textile mill, and continued there, working his way up to overseer of the carding department, until 1833 when he went West for a period. He returned and, prior to 1836, he was superintendent of the Jericho Mill on the Gunpowder River.
In 1836 with David Carroll they converted Stony Mill to a small cotton mill with used equipment from Savage Mill. In 1839 they built the Whitehall Cotton Factory (later Clipper Mill), and in 1842 built the Woodberry Factory, which they converted to steam power in 1843. In 1847 with others he built Mt. Vernon Mill #1, subsequently sold to the Mt. Vernon Company. In 1852, Gambrill & Co. purchased Mt. Washington Mill to produce lightweight duck, and converted it to steam. In 1855 he built Park Mill to knit seine netting.
In 1865 Gambrill sold his interest in his mills to partner Edward Hooper; in 1866 he then built Druid Mill, the largest cotton mill in the state, on his own. He managed Druid Mill until his passing (Richardson and Bennett 255–257).
One of Gambrill's daughters married Richard W. Hook, owner of the former Rockland Flour Mill in Brooklandville, which Hook turned to producing calico. One of Hook's daughters married Charles A. Gambrill, Jr., namesake son of the Patapsco River flouring mills magnate, but no relative of Horatio Gambrill (Legacy Web).
William Hooper (1788-1863)
William Hooper was a native of Londonderry who had arrived in Baltimore as a 12-year-old and became apprenticed to a sail maker, Hardester. He went into business for himself in 1814 — after serving in the Army in the War of 1812 — and formed Hooper & Hardester with his former employer in 1823. Thriving, he took over Bowley's wharf business. William purchased his raw materials directly from England mills, shunning the manufacturers of cotton duck in the United States. He was content to remain in partnership and serve the growing numbers of clients who came to the company. William retired from the Company in 1843 at the age of 55. Though not a mill owner per se, he set the stage for William E. Hooper (Legacy Web).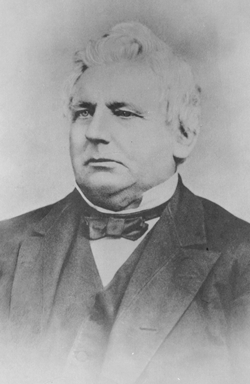 William E. Hooper (1812-1885)
William E. Hooper was the eldest son of William E. Hooper. He went into the sailmaking business at age 15 in 1827 — having had just one year of post school classical education at Mt. St. Mary's College, Emmitsburg.
"As the legend goes, William E. would rise in the early mornings, take an oil lantern, go to the docks, and row out to the mouth of the Patapsco River in the Chesapeake Bay to meet incoming Clipper Ships. Arriving at daybreak, he would be the first sail maker aboard and would have measured the sails and closed the deal before other companies had a chance." ("Wm. E. Hooper Plant Story" 18)
"When William retired from the partnership in 1843, William E. channeled much of his energy into transforming the business. Within two years William E. had bought out the interests of Hardester, his father's partner, and had continued the business in his own name. He also started expanding the business by buying cotton from the southern plantations, selling it to Gambrill, Carroll & Company in Woodberry where the raw materials were converted to cotton duck, then selling their output through his sail loft. His products found a niche competing against cotton duck shipped from England." (Hooper)
He first marketed the canvas of other textile millers, notably Horatio Gambrill and David Carroll's White Hall Mill enterprise, before he started to produce his own in a steam powered plant in Canton in 1845 with five other sail makers.* In 1848 William E. bought the Woodberry Mill and entered the firm of Gambrill, Carroll & Co. as a full partner ("Wm. E. Hooper Enters 40th Year" 20). He built the Park Mill in 1855 (cooperatively with Gambrill and Carroll), acquired the Clipper, Mt. Washington and Park mills from Gambrill in 1868, and built the landmark Meadow Mill in 1877.
William E. Hooper rendered assistance to the beleaguered members of the Massachusetts regiment who were attacked by a mob in the 1861 Pratt Street riot. In 1865 he lent his team of carriage horses to pull Abraham Lincoln's hearse when the slain president lay in state in Baltimore. Neither action earned him support from the many Southern sympathizers in Baltimore (Legacy Web).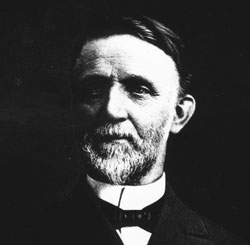 James E. Hooper (1841-1908)
James E. Hooper was a middle son of William E. Hooper. He attended Rippard and Newell's private school at Calvert and Pleasant Streets. Upon graduation he entered the family's cotton business on the Jones Falls, later becoming president of the Mount Vernon Woodberry Cotton Duck Company after the mergers.
"In 1903 James Edw. succumbed to the pressures of the other mills in the Hampden-Woodberry area and entered into a combination with the Mt. Vernon-Woodberry Mills group and other large textile concerns to form the Mt. Vernon-Woodberry Cotton Duck Association. James Edw. became president of the Association. [His brother,] Alcaeus [Hooper,] had warned against just such an association eleven years earlier, but not until the Company was actually involved in the group did James Edw. see the problems that he would inherit without his independence.
"One of the major issues appears to have been that the southern mills in the Association began using the Woodberry trademark as their own. It appears that the Hoopers were not successful at preventing the Cotton Duck Association from using the 'Woodberry' symbol, which was a powerful worldwide trademark. In an unusual move the Hoopers stuck out on their own in another way: they built the Hooperwood Mill #l in 1904 and adopted the "Hooperwood" trademark in that year. For years the 'Woodberry' trademark had been under the exclusive use of the Wm. E. Hooper & Sons Co. and had been a guarantee of workmanship and quality. The guarantee could no longer be honored." (Hooper)
He named the mill Hooperwood and it was the first all-electric mill in the Jones Falls Valley.
James E. Hooper's second wife was Sarah Poole, a daughter of Robert Poole, the co-founder of the Poole & Hunt foundry. On James E. Hooper's death, Sarah became majority stockholder in the company, and control of the mills passed to the Poole side of the family (Legacy Web).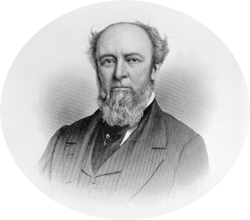 Captain William Kennedy (1801-1873)
Captain William Kennedy, a Philadelphia native, went to sea at an early age. Arriving in Baltimore at the age of 34, he entered the cotton mill business, managing the Mt. Vernon Mills by 1847 and was the president of that company for 25 years until his death. He was closely associated with St. Ann's Church, "An Anchor in Faith," 528 E 22nd St. at Greenmount Avenue. The anchor from his first ship stood outside of his house Oak Hill and, after the mansion's demolition, was relocated to the front of St. Ann's church, where it remains.
Kennedy's daughter married Richard Cromwell, III who, like his father-in-law before him, was president of Mt. Vernon Mills (Legacy Web).
Information on this page comes from captions to these photos in the Baltimore County Library Legacy Web Historic Photo Collection. As the captions were unattributed, they have been edited and revised to be consistent with the rest of this site, unless otherwise noted.
* The United Manufacturing Company of Maryland corporation was chartered by Laws of Maryland, Acts of 1844, Chapter 235. The original incorporators were Benjamin Buck, James Frazier, Edward S. Lamdin, William Grey, William E. Hooper, and James C. Stheeden. Ground was broken for the Union Cotton Duck Mill on the SW corner of South Clinton Street and Cardiff Avenues on the Northwest Harbor in Canton. The Sun, June 30, 1845, noted, "It is we understand to be the joint property of a number of sail makers of this city, who have formed a joint stock company." The Baltimore American, July 24, 1852, reported a fire that caused a $60,000 loss at United Manufacturing Company. This is about the time William Hooper bought into Woodberry Mill. The mill is not mentioned on later maps.